This Keep You Steady From Slippery, Icy & Snowy Road Surface! 
Love to go hiking but worried about your safety issues due to the slippy road or heavy snow? Then this Anti-Skid Gripper Spike is your answer! The overshoes are with ground grip steel studs that can offer excellent traction on ice and snow. They can help you avoid tumbling on the flat and thin icy or snow ground. Now you can go hiking without worrying you will slip again!
FEATURES:
More description of our Anti-Skid Gripper Spike-
Safety Guarantee - This Gripper Spike provides you a walk traction cleats that enhance the road holding in the snow/ice. Excellent traction on ice and snow to help to avoid those treacherous slippery conditions
No-slip Raised Design - Each side of our Anti-skid Gripper Spike designs with no-slip raised, which can greatly increase the friction between ground and ice cleats, shoes and ice cleats, offer excellent traction.
Durable Materials - Made of durable black rubber with ten anti-slip great quality steel studs, which maintains powerful performance under -40 °C, offers excellent grip on ice and snow!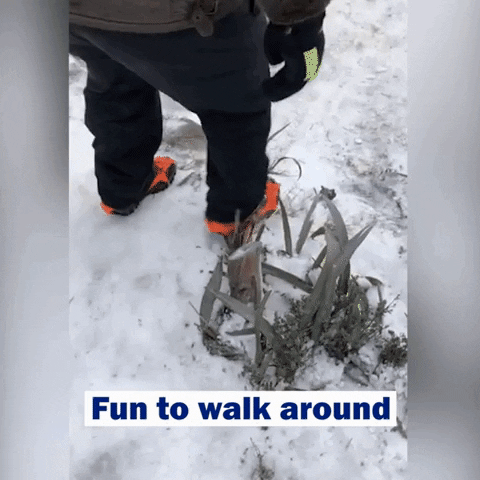 Easy to Use & Carry - This anti-skid gripper spike fits well over your footwear and really easy to take on and off in one second! Able to roll up small enough in a pack and lightweight. You can carry it around easily in your purse, backpack, or even in your pockets!
Suitable for Different Shoes - We available in different sizes, from S to XL, which fits in sneakers, boots, or casual shoes! Great for enjoying winter outdoor activities with your lover or family!
Wide Range of Uses - Whether for ice fishing, walking, jogging, hiking, running, or snow shoveling, these cleats undertake all tasks efficiently. An ideal chose for both males and females of any age of teenagers, adults, elders.
SPECIFICATIONS:
Material: TPR
Color: Black
Size: S - US2-5/UK1-4/EU29-35
                   M - US5.5-6.5/UK4.5-5.5/EU36-38
                   L - US7-8.5-7/UK6-7.5/EU39-42
                   XL - US9-10/UK8-9/EU43-45
PACKAGE INCLUDED:
1 xAnti-Skid Gripper Spike