What Materials Can I Use Diamond Drill Bits On?
Diamond drill bits are perfect for drilling holes through hard materials such as these:
Glass, sea glass, beach glass, fused glass

Stone, gemstones, rock, pebbles

Ceramic, porcelain, tiles, glazed pottery, plates

Shell, antler, bone, fossil

Very hard wood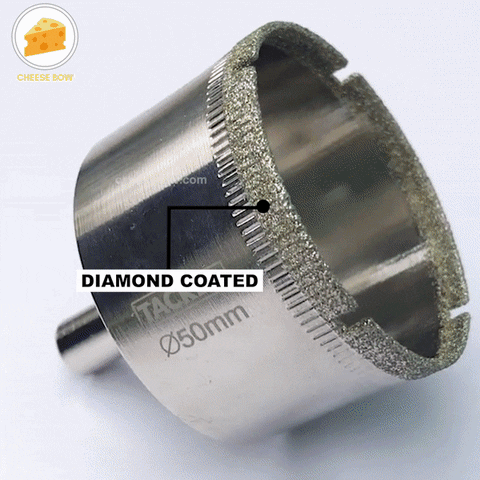 Diamond Drill Bits - Why should I Choose?
Small Diamond Drill Bits have a solid end and therefore a larger surface area so they last longer than the small diamond core drills, but may take longer to drill a hole. They are more robust and therefore ideal for very tough, dense pieces of sea glass, very hard stone, precious stone, gemstones, hard shell, bone and antler.
If you're a regular user of diamond drill bits it is worth having a combination of both small diamond drill bits in your tool box as sometimes you don't know if you have a very tough material until you start drilling!
Operation Note
As with all diamond drill bits you should use water as a lubricant and coolant.

Being hollow, allows the water to flow up inside and around the inner core of these drill bits as you are drilling, helping to keep the drill bit cool and removing the debris.

Start your hole diagonally, make a round trace and then hold drill straight.
Specifications:
Size: 6/8/10/12/14/16/18/20/22/25/26/28/30/40/50mm
0.23/0.31/0.39/0.47/0.55/0.62/0.7/0.78/0.86/0.98/1.02/1.10/1.18/1.57/1.97"
Quantity: 15 pcs

Packaged included:
1 x 15pcs Diamond Coated Hole Saw Drill Bits